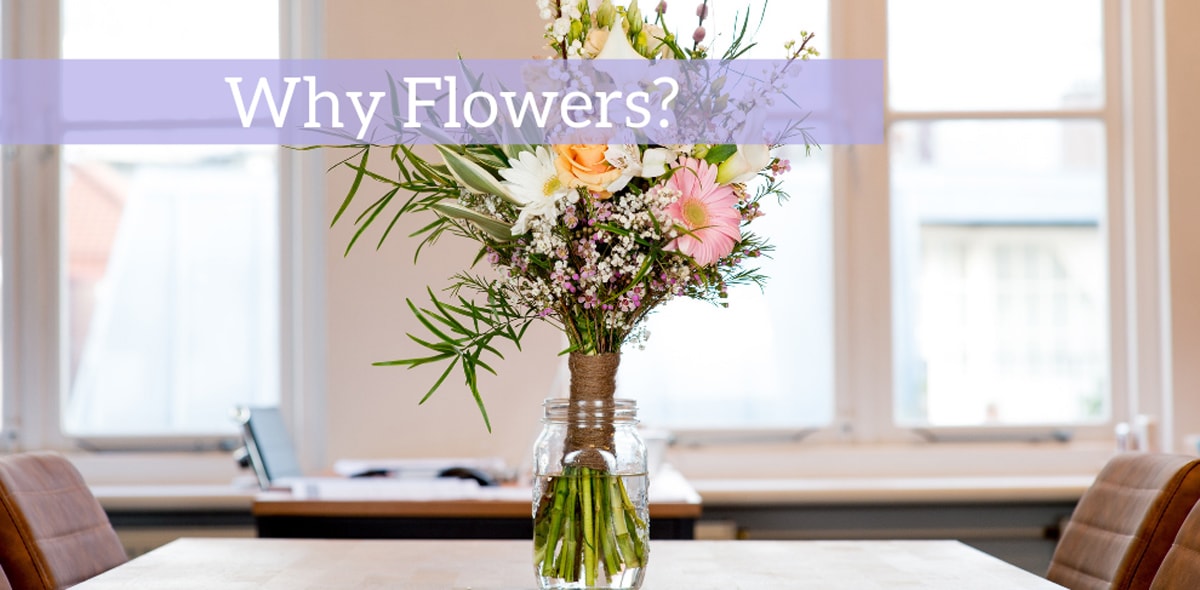 BEING AROUND FLOWERS AND PLANTS MAKES YOU HAPPIER AND IN A BETTER MENTAL HEALTH STATE
Flowers and plants as a gift are not just beautiful and convenient, they have proven mental health benefits for the recipient and all that are around them. University studies have shown over and over again that mood, behavior and productivity consistently improve when someone receives and is around flowers or a live plant. We are fortunate enough to see it every day this affect every day. See below for citations of these specific studies.

The goal of any gift is to elicit a feeling happiness and encouragement. Flowers and plants do that at the time of receiving them, but also continue to give that feeling of happiness the entire time the recipient is around them. This durable mental health benefit is one of many reasons that flowers and plants are the perfect gift for any occasion.
The Benefits Of Flowers In The Home & Workplace
A few years ago, Texas A&M conducted a study that found nature can hold the secret to business success.
Worker's idea generation, creative performance and problem solving skills improved substantially in workplace environments that included flowers and green plants.
Both male and female participants demonstrated more innovated thinking and generated more ideas and original solutions to problems in the settings of plants and flowers. Men generated 15% more ideas, females more flexible and creative solutions.
This simple change can increase productivity that can mean the difference between mild and great business success. Sound interesting to you? Read on…
Harvard conducted a study in conjunction with Massachusetts General Hospital identifying the factors most likely to impact 21st century employees well being, commitment and productivity.
The research shows that commitment is largely influenced by one's sense of purpose, the feeling of personal impact and overall trust in their organization. Men generated more ideas in the presence of flowers, while women generated more creative and flexible solutions.
Productivity is largely affected by the quality of human relationships including cooperative social group moods and interaction.
The results of this study led to the conclusion that workplaces that provide positive environments that foster interpersonal trust and quality personal relationships create the most committed and productive employees.
Rutgers in New Jersey researched how flowers would be a simple way to improve emotional health. They found that the presence of flowers triggers immediate happy emotions, heightened feelings of life satisfaction and affects social behavior in a positive manner far beyond what is normally believed. This reaction was universal, occurring in all age groups.
All studies concluded that flowers and plants improve emotional health and happiness. Participants had less worry, more compassion and a higher level of life satisfaction.
On the giver side, both men and women who gave flowers were perceived as happy, achieving, strong, capable and courageous, and coming across as more emotionally intelligent.
Why not bring flowers into your workplace and just see how it improves the mood and atmosphere of your workforce, and you might just see amazing results in the bottom line.
Who knows? You might just feel like that strong and courageous person you're perceived to be.
Palmer Flowers is Northern Colorado's Leading Local Florist