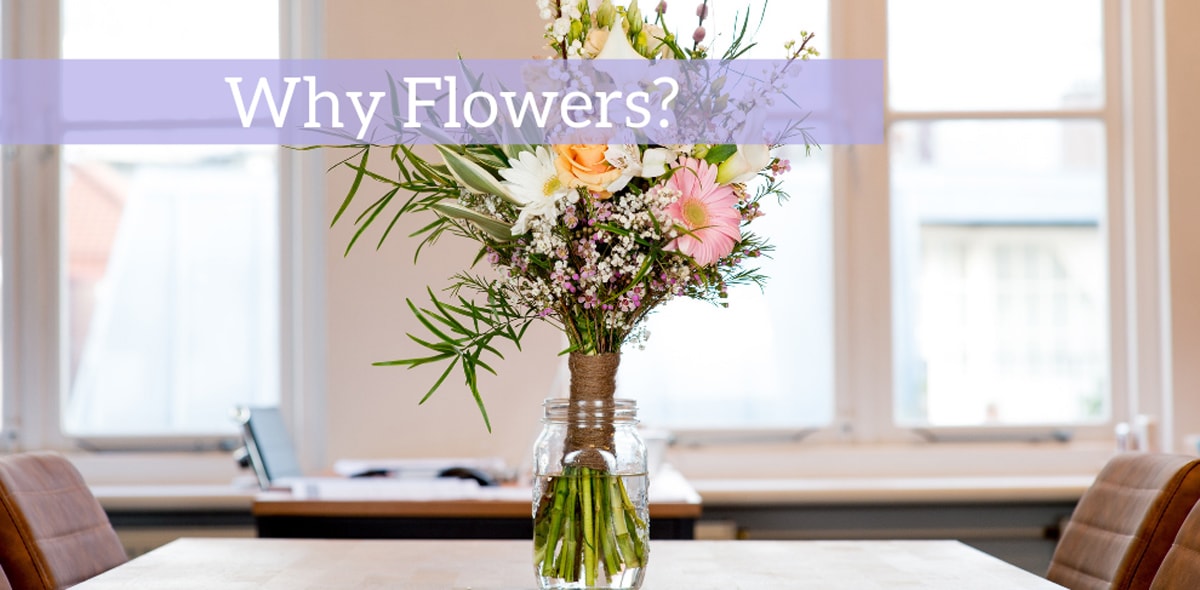 Learn About The Vast Mental Health Benefits Of Sending & Receiving Flowers
We've spent over a year dealing with a pandemic that has isolated a majority of workers in some way or the other. Either not working at all, or working from home has taken a toll on emotional health for nearly everyone. As the country slowly goes back to some type of normalcy, what can you do as a company to help your employees get back on track and give your company that competitive edge you desperately need to recoup the losses you've incurred this past year?

Even before COVID, the mental health of our workforce has become fragile. US businesses lose 200 million workdays each year to depression, a cost to employers of up to 44 billion dollars. That's 44 BILLION!!!

Then came COVID and exacerbated an already overwhelming situation. Nearly 1/2 of US workers suffer from mental health issues since the pandemic hit at a significant cost to their wellbeing and to their employers bottom line.

In today's economy it is more important than ever for businesses to gain the competitive edge. Constant fluctuations in unemployment, productivity and consumer confidence make it imperative to implement the right strategies to stay ahead of your competitors.
The Benefits Of Flowers In The Home & Workplace
A few years ago, Texas A&M conducted a study that found nature can hold the secret to business success.
Worker's idea generation, creative performance and problem solving skills improved substantially in workplace environments that included flowers and green plants.
Both male and female participants demonstrated more innovated thinking and generated more ideas and original solutions to problems in the settings of plants and flowers. Men generated 15% more ideas, females more flexible and creative solutions.
This simple change can increase productivity that can mean the difference between mild and great business success. Sound interesting to you? Read on…
Harvard conducted a study in conjunction with Massachusetts General Hospital identifying the factors most likely to impact 21st century employees well being, commitment and productivity.
The research shows that commitment is largely influenced by one's sense of purpose, the feeling of personal impact and overall trust in their organization. Men generated more ideas in the presence of flowers, while women generated more creative and flexible solutions.
Productivity is largely affected by the quality of human relationships including cooperative social group moods and interaction.
The results of this study led to the conclusion that workplaces that provide positive environments that foster interpersonal trust and quality personal relationships create the most committed and productive employees.
Rutgers in New Jersey researched how flowers would be a simple way to improve emotional health. They found that the presence of flowers triggers immediate happy emotions, heightened feelings of life satisfaction and affects social behavior in a positive manner far beyond what is normally believed. This reaction was universal, occurring in all age groups.
All studies concluded that flowers and plants improve emotional health and happiness. Participants had less worry, more compassion and a higher level of life satisfaction.
On the giver side, both men and women who gave flowers were perceived as happy, achieving, strong, capable and courageous, and coming across as more emotionally intelligent.
Why not bring flowers into your workplace and just see how it improves the mood and atmosphere of your workforce, and you might just see amazing results in the bottom line.
Who knows? You might just feel like that strong and courageous person you're perceived to be.
Palmer Flowers is Northern Colorado's Leading Local Florist